Distressed finish! That sums up my whole house!
www.dogtrekker.co.uk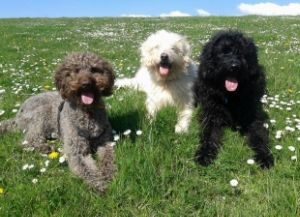 Beauty without vanity, strength without insolence, courage without ferocity, and all the virtues of man without his vices - Byron
---
iv got ceam tiles in kitchen i ate them show every bit of mud i wish i would have had grey got laminet floor all through house except stairs and got a massive big rug brown in the living room that could do with changeing but i dont see the point john keeps bringing him bones and with a 1 yearold grandchild and 2 2year old nephew and niece which drop food everywhere i give up i might put some lino in kitchen a dark colour i just think we love our dogs more then being house proud
---
Posts: 898
Joined: 13 May 2010, 12:28
Location: South Lincolnshire
Contact:
john ford wrote: i just think we love our dogs more then being house proud
Three cheers for that
like Stout, Kizzie didn't take long to ruin my oatmeal coloured carpets, I find it best to leave it and eventually the general mud/dirt blends blends in the yellowish bile/wee stains
---
Posts: 339
Joined: 16 Mar 2009, 09:45
Location: Cheshire
stout wrote:We have beige carpets throughout. Well, they were beige.

Let me rephrase. We had beige carpets throughout. Then we got Stout - a.k.a. the swamp monster. Suddenly the beige carpets didn't seem so beige.

So we've bought a bissel carpet cleaner. After the first attempt it has got the carpets to a more beige approximation. Needs anotheer go though. If you get a carpet, then take the doodle into a carpet showroom on a Sunday after a doodle meet, and get your muddy dood to walk across a few samples you're thinking of buying. Whichever one shows the muddy pawprints the least wins!!!

My thoughts are:

Laminate flooring - too slippy

Vinyl fake tiles/wood floooring - good if the doodle doesn't slip

Holey springy fake tiles vinyl - doesn't sound good

Mud brown carpet with random black specks - perfect.

If you go down the carpet route invest in a carpet cleaner!
completely agree with this, we also had lovely beige carpets before getting one doodle and then adding another, we've had professional carpet cleaner in and they say nothing will get out the stains (Daisy had Giardia as a puppy) out, so I've been having the same dilema, realise now just need to accept that our 2 run and play and it will never be clean but is SAFE
---
I'd say no to laminate, its far too slippery for dogs I find and also the more you mop it the more the finish can peel over time and I find it is very cold to the touch.
Lino - Mum had this with cats, find with time it starts to warp unless it is sealed by a fitter from the outset.
Tiles - You could either go for a dark ceramic tile with dark grey grout or have you thought of slate tiles? It can feel quite cold but both are very hard wearing surfaces as long as you don't have very young children as you would then need to do what my sister does and invest in one of those children's travel cot or a baby gym or just not get a tiled floor.

= Cherry/Rosewood Parquet flooring, brilliant. We have it in the lounge & hallway of our spacious two bed garden flat, but I don't think the contractors the landlady used sealed it properly but it is still beautiful. It is easy & low maintenance, quick hoover with Henry vaccum (floor setting) and quick mop. I find Buster's doodle hairs also collect in corners which makes it easy to spot clean if you have guests at short notice lol. It can also be cost effective as it can be re-sanded & resealed if scratched, eco friendly (as you can use reclaimed parquet flooring) and really good in winter (warm to the touch) and cool in summer. For a change, we go to IKEA and buy some large rugs.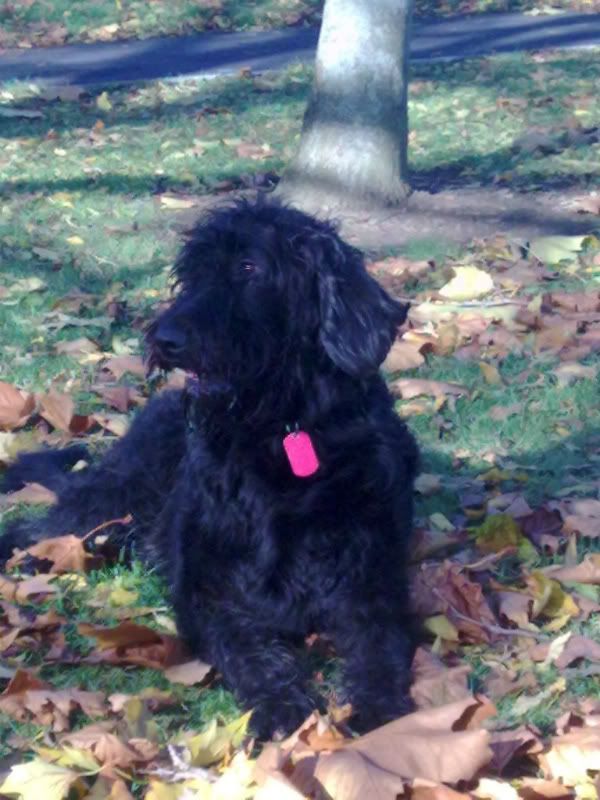 ---
We Had our proffesionaly laid, 5 years ago and it's been fine. Unfortunately I can't find the paper work to tell you the name
sorry.
---
Another thing - I'm glad I've got tiles and oak flooring this week as Roxie's having her first season and is dropping little spots of blood on the floor. It's easy to mop them up but would have been a nightmare on a cream carpet!!!!
Suzi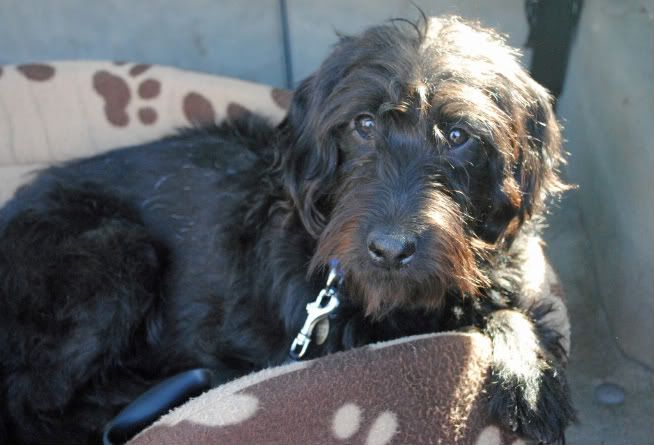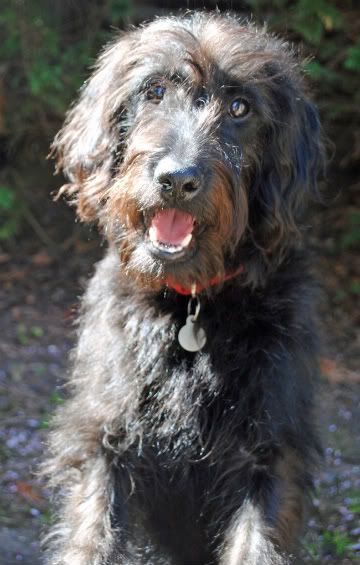 ---
We have riven slate tiles (they are uneven so non slip even when wet) in most downstairs rooms but oak boarding in the lounge. Mabel's never had a problem. I have found flooring that is Ok for one dog is not necessarily OK for another.
Tina
---
Posts: 576
Joined: 15 Apr 2010, 14:03
Natural slate tiles in the kitchen where Stout the 'Swamp monster's' mate Piet sleeps. Wooden floor in the lounge/ dining room. New wood that was distressed and has been further 'doodle' ditressed. Perfect. Add a chocolate brown rug (Piet coloured) in front of the fire. Again perfect.....
---
Reading this with interest.
We have a mixture of real wood, laminate and quarry tiles and then carpet in hall and stairs.
Its a difficult one as all have pro's and con's
The flooring is great for picking up loose hair - it collects in what looks like tumble weed ! a bit embarressing if I miss it !!
The carpet is cosy
On reflection we have decided that maybe the carpet has to go especially
with 2/3 dogs
One thing we are looking at is a hot/cold mixer tap outside - this would help with the endless muddy paws we seem to have at the moment.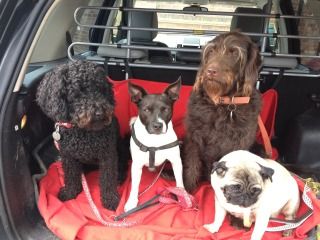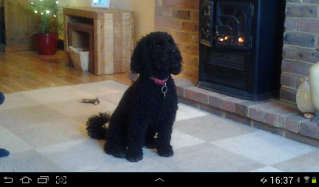 ---
We have carpet in the study and lounge, read wooden floorboards in the kitchen and vinyl flooring looking like tiles in the back hall, and laminate flooring looking like wood in the front hall.

The wooden floor in the kitchen is slippery if she runs on it, but she doesn't. However, she can't sit on it, all her limbs slide outwards! The carpet is fine as she doesn't shed, and we wash her paws every time she comes in so it is still cream after a year! I'm glad because vacuum-washers encourage dust mites.

The best floor is the vinyl-look-like-tiles, they are not a single colour so they don't show the dirt at all (I'm always horrified when I wash it!! every two weeks or so). She doesn't slip on it. We got it in John Lewis and everyone thinks it looks very realistic.
Outside of a dog, a book is man's best friend. Inside of a dog, it's too dark to read ~ Groucho Marx

---
Thanks for all your replies-been reading with interest. And laughing at your crazy antics
Still confused though. The loss adjuster has just been and said, well if you can live with it how it is (the joints on the laminate have slightly blown with the wet) you could have a nice holiday with the money
Think I might wait until Molly has her first heat and is spayed before even thinking about carpet in the lounge (a brown speckaldy one with yellow stains mixed in
). And either the laminate tiles or slate tiles in the kitchen and hallway.
Thanks for your help-you are great
---