Phoebe-Weeby-Dweeby (or any combination), Phoebs, The Feebster, Doodle-Oodle-Ooodle, .... doesn't it sound stupid when you write it down.
---
Posts: 882
Joined: 25 Sep 2010, 09:42
Location: North Yorks
Treacle gets: Treac, Teacle Weakle, puddin', pumpkin, Sweetie Pie, OR: It (as in where is It
), Bl***y Little Minx
so reassuring to know we are not alone
---
Phoebe is Pheebs, Phoebedoodlefluffball, Phyllis (name chosen by my eldest son rather than Phoebe), Big Bertha, Curly Girl, Gorgeous Girl.
The flip side of this is of course all the other names that I can't repeat on here for risk of offending anyone, like when she found a new toy - my brand new BlackBerry
She did buy me another one for Mother's Day so she was my Gorgeous Girl again
---
Am loving the responses to this thread!

Florrie is also known as: Florrie Lorrie, Florrie Lorrie Doodle, Doodles, Poodley doodley, Florence, wussy pants, Pup, Big Pup and as my 18 month old niece calls her: Borrie Borrie Looloo's (Florrie lorrie doodles)

My Dad insists on calling her any of the following: Flo, Floss, Flossie, Florabundy.
Florrie Lorrie
---
Ok. Briardoodle, Stinky (for those lying on the rug moments when she passes wind
), Poodlehead, or just plain Briar if she's done something wrong ! There are probably more but likely I can't put them in print !
Mark, Kim, Briar & Marcie (the Cockapoo!)
---
Deep breath....
Boris: Boz, Bozman, Bozschnoz, Schnoz, Borry, Stinker, Bozzer, Handsomepie, Doodlepie, My bestest boy, Bobo, and most embarrassingly... Borissimo Bumholio.
Toby: Tobs, Teeby, Teeby Jeeby, Tobester, Tea Bag, Poodleface, Tobes Mcbobes, Tobby Jobby, Big job
, Tobbers, Bobface, Tobby Jobbers...
Collectively they're "The Boys."
Occasionally they get called Toby and Boris.
And what makes this even more embarrassing is that I sat and called out all their nicknames to remind myself while typing!
---
Wilfy when he is good, Wilfred Lucifer when he is being naughty.
f....g hooligan (after the 5th fence panel in 6 months had to be replaced,
bloody hound (for the stealing moments), and for the rare moments when he is tired and floppy and trying to climb into the chair with me mummy's bestest boy and mummy's little angel.
---
I def can't repeat what I call my two (but those who have met us may well remember
)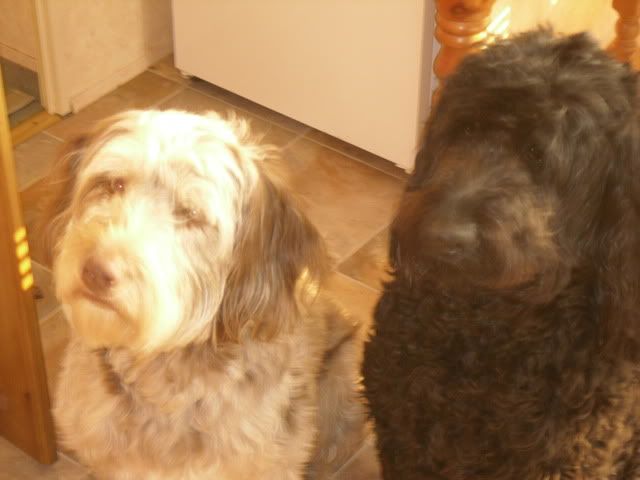 ---
Dexter gets called Pookey, deccy, doodley poodley, deccy doodle, woglet, curly bum, and a really wierd one I do apologise! slicanond don't ask me why!
Also these are said in a really funny baby voice my 15 year old son thinks I'm barking mad! ohh and so does Dexter!
---
Posts: 441
Joined: 25 Jan 2011, 17:22
Heeheehee
Doodles get the funniest names....
I generally walk 3 dogs, Ted (mine), Maisie (mums) and Reg (nans).... and I've now got rhyming names for them
Ted is usually called Tedelicious and from that 'Lishy-Loo' and then there is 'Maisie Moo' and 'Reggie Roo'.
Ted gets called millions of different names but 'you little bugger' is a favourite
---