Posts: 799
Joined: 03 Oct 2011, 16:54
Took dexter walk today ,and had a few people ask what sort he was ,and then we saw a man with two greyhound ,we had seen him before ,and he said your dog is a lovely dog and he said iv new a few dogs in my time even collies and he said that type of dog is one of the cleverest hes seen ,we then met a man with two bull terriers ,which dexter was playing wiyh but he said hes other dog dont like them smeely her back end ,my heat wa in my mouth,and then he said she went for a big dog and hung off her mouth ,she was fine with dexter but i was glad to get away from them ,nothing against bull terriers but im very anixous when dexter meets one.

this is when grandaughter put dexter some platts in.
---
That makes a pleasant change, to hear someone admiring doodles brains rather than complaining about them!
www.dogtrekker.co.uk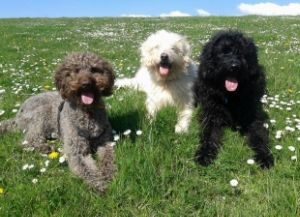 Beauty without vanity, strength without insolence, courage without ferocity, and all the virtues of man without his vices - Byron
---
Posts: 27
Joined: 19 Jun 2012, 20:07
Location: Southampton, Hampshire
I was merrily wandering around Southampton Common a few weeks back, Felix met lots of other dogs, and played with them all in their prefered manor. After a while I noticed some bloke dressed in black watching us
he appeared to be following us
. Eventually he came close enough for me to shout at him, "Hello, are you following me?" Anyway turns out he's the local dog warden
. But he was full of compliments for both Felix and doodles in general, and I was only a little freaked out
---
Posts: 3507
Joined: 03 Apr 2011, 10:51
Location: Derbyshire
Who wouldn't think that Dexter is wonderful, he's such a handsome boy
. But it is nice when someone says your dog is lovely.
---
Aww Elaine, Dexter is a gorgeous boy and very deserving of that compliment
Daise xxx

---
Aww, what a nice outing! (For a change!
)
---