Hi all.
Does anyone use an outside kennel?
I have had mixed opinions from different friends.
Thankyou!
Xx
---
I have no experience and personally I wouldn't use one.
---
Posts: 882
Joined: 20 Sep 2013, 11:06
For daytime, nighttime or both? Just curious. I wouldn't but my cousin has one I think for day time when she is at work.
---
I don't use one myself unless the Summerhouse counts? Thinking of one for the OH though....
Anne & Ianto xx
---
I dont use one but my nextdoor neigbour has one for her two dogs ,while shes at work,i saw a thing on tv once about how hot a kennel can get in the heat .I think a goodsized one with a run is better in a shaded part of garden and make sure it is water tight.My daughter tried a run and kennel with her doberman ,but he was howling all day and neibours complaned,they bark a lot next door cause they get board they are out from 6.30 till 5 and not walked at all breaks my heart to see them.
---
Thankyou!
I thought it might be less boring for Lucy as she loves laying and playing outside. My neighbour has a dog door but their dog is a jug (a pug cross! Not a measuring type). This is because they leave it for long periods. We dont leave Lucy for long but I thought she might like it as an option.
Thanks for your advice.
Xx
---
Posts: 353
Joined: 02 Mar 2012, 11:43
Location: Pleasington, Lancashire
We bought a large plastic kennel off eBay cheap a couple of years ago so our old dog Bruno who ate every other type of basket. He loved his little house. Although we never left him outside we did put it in the garden on a nice day for him and he loved it. He used to get some peace in there when lulu was a puppy
Alison, Lulu and Woody x
---
Posts: 105
Joined: 07 Jul 2013, 16:21
Location: nr Bridgwater Somerset
When I make a teepee/blanket fort for my Grand-daughter, guess who plays in it most? I think dogs just like a 'cave'!
---
If it was just as an interesting place to call her own, I think she'd love it! Especially if she could chose whether to go in... just don't do 'the John Lewis' thing!! (Anyone remember their Christmas advert?
)
Anne & Ianto x
---
We had a large wooden outside kennel for our first dog that he could go in whenever he chose to. He used to take his marrow bones and toys in there - definitely a man cave
Ianto! wrote:just don't do 'the John Lewis' thing!! (Anyone remember their Christmas advert?

)

Anne & Ianto x
I do remember that ad - it upset me every time I saw it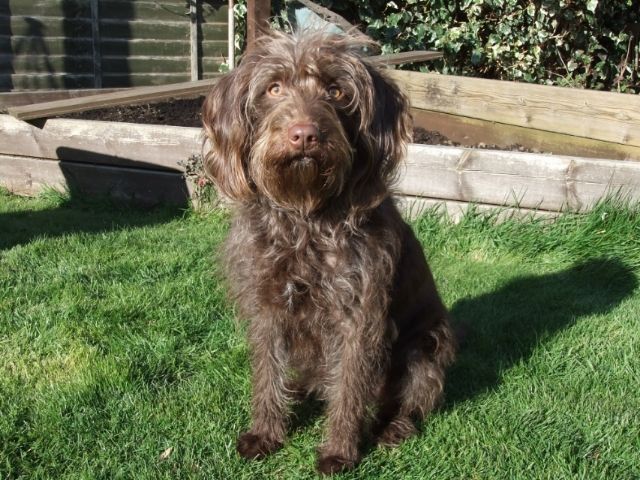 ---