Posts: 3346
Joined: 30 Dec 2012, 13:50
Location: Waltham Abbey
Contact:
My friend has just got a 4 year old toy poodle (yes a toy one)She is absolutely beautiful but not housetrained. She lived mostly outside (not cruelly). She has had her 2 weeks and she goes out to the garden but wont go. Only on the lead on walks. How can she train her to do her business in the garden please?
---
Posts: 37
Joined: 21 Jul 2014, 20:41
She could take her into the garden and play with her. Also, and this is a bit yucky but might work: collect some poo from one of her walks and place it in the garden. She, hopefully, will smell it and realise that she can "go" there. I understand why she's not wanting to soil her area (if she was kept outside before) and instead waits until she goes on walks. If she makes a mess in the house, maybe crate training would be suitable?
---
Stout wouldn't go to the loo in the garden of our old house. We used to have to take him for a walk, which was a pain in the bum if he had an upset belly in the night. When we moved into our new house he was still reluctant, but after his buddy Charlie came to visit and did a wee in the garden the problem was solved
Cheers,
Chris, Michelle & Stout
Stout Puppy Pics:
http://photobucket.com/stoutdoodle
---
If she goes on walks then I would start to reward and name as you do puppies, so in our case a wee would get "good girl, good hurry up!" Eventually she will match the word with the act, and then you can ask for "Hurry Up" out on walks. Once she is weeing to order youcan start to ask in the garden. Same process for poo too!
www.dogtrekker.co.uk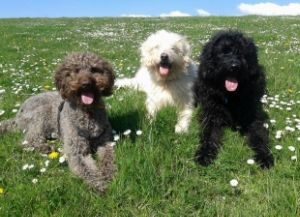 Beauty without vanity, strength without insolence, courage without ferocity, and all the virtues of man without his vices - Byron
---