Here is Luna - 1 today! Mad as a hatter and a whirlwind of mischief, but such a character! [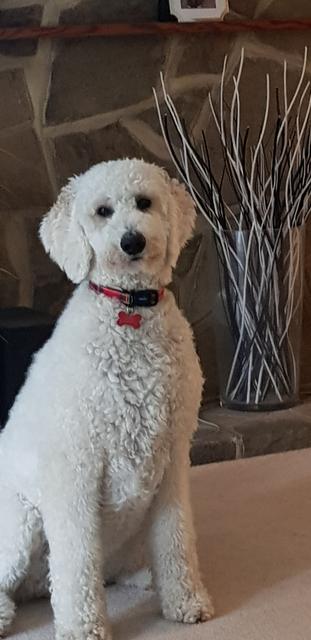 ][/img]
---
Posts: 19
Joined: 15 Mar 2019, 12:44
Awwww happy birthday Luna. Why do those words mad,hatter, whirlwind, mischief sound so familiar.
Hope Luna has had a lovely day with treats, walks and attention.
---
HAPPY BIRTHDAY LOOPY LUNA
Lovely photo!.....you look so innocent
---
Posts: 372
Joined: 06 Aug 2014, 17:24
Happy birthday Luna, hope you have been spoilt.
---
Posts: 360
Joined: 24 Apr 2013, 08:20
Location: Redhill
Happy Birthday, what an elegant lady. H and D
---
Posts: 289
Joined: 03 Oct 2013, 12:15
Location: EastSussex
Belated Happy Birthday Luna, where has that year gone. In a whirlwind of fun, love and downright chaos most of the time, would not have it any other way. She has grown into a lovely girl.
---
Posts: 2229
Joined: 10 Sep 2010, 18:36
She really has grown.
Looking at her impressive coat, must take an age to groom her!!
---
It certainly does!!! Every morning she has a good brush and comb and a spritz of conditioning spray. She loves being pampered, her coat grows SO quickly and her eyelashes are mega long and curly. She has to be groomed and trimmed every 5 weeks at great expense - more than I spend on my own hair!
---
Posts: 3346
Joined: 30 Dec 2012, 13:50
Location: Waltham Abbey
Contact:
Happy birthday. Hope it was scrumptious
---
---