Bensmum - it would be brilliant if the members of your WhatsApp join the forum - we need new blood
---
Posted the forum link on our furry babies WhatsApp page so fingers crossed that they also join.
It would be nice and I think this forum would benefit our furry babies as I know despite being a experienced dog owner I must say that doodles are totally different as they are just so lively and so so intelligent you really need to try and be one step ahead of them lol
Atm the score in our house is Ben 7 Me 3 which is an impressive improvement compared to 4 weeks ago
Dogs do speak, but only to those who know how to listen.
---
It would be great to welcome some new members - thanks for giving us a recommendation Bensmum. I love the picture of Ben helping with your magazine recycling! And I do agree with you that doodles are just a little different from other breeds and trying to keep one step ahead of them can be quite exhausting at times lol!
---
Roker really kept me on my toes the first couple of years....now he's 6 to be honest i can manage!!!
---
love the photos...Rocker doing what doods do very little of ...chilling
:
---
He looks well contented, probably because he has got you 'organised' at last! Great pics, thanks and keep them coming.
---
Posts: 289
Joined: 03 Oct 2013, 12:15
Location: EastSussex
Lovely to see the photos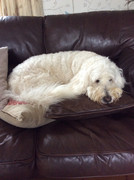 This is Holly now at 7 1/2 years where has the time gone, still as loving and nutty as ever but thankfully a little more sedate and enjoys hogging the whole couch !
---
Hi Kathie - just noticed that you live in East Sussex. I was an East Sussexian from the late 1960's until 2006 (when we moved to Wales), mainly round the Heathfield area. Once the grandchildren grew old enough they both returned to that same area to set up home leaving daughter and me still here in Wales (lots of trips up and down the M4 between us now LOL!). Still have a very soft spot for E. Sussex but don't think I could take all the traffic now after living in rural Wales.
---
---
---
Posts: 289
Joined: 03 Oct 2013, 12:15
Location: EastSussex
Holly is nearly 8 and still a puppy at heart, looking rather miserable here. Must have just heard I found a groomer who is actually open for business, I am a little worried as Holly has always had the same groomer since puppyhood but her coat is so thick she gets uncomfortable in the hot weather. Wish us luck with the new groomer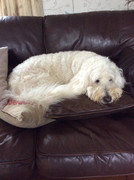 ---
Hi Trndblue, love the look of your new boy. You say he will be home with you this week, have you got him yet? You must be so excited but please don't forget to post some new pictures very soon, he looks so very cute.

Kathiedoodle. Good luck with the new groomers - don't forget the pictures after the event please.
---