Tonight Luna excelled herself. She had been hyperactive all evening, having had 2 time out sessions for total over excitability - running circuits at speed round house and garden and being bolshy when told off. When she calmed down we gave her a frozen kong and thought that would keep her occupied while we ate. How wrong we were! The doors were open due to the heat and on finishing our meal we called her in...... complete with 4 black legs and face and the remainder of our begonia bed in her fur. She had dug up the whole flower bed and was covered in compost. She has been quite naughty this week - maybe its the heat. Anyway an unscheduled bath followed and a clean up of pur cream carpet. Hoping for a quieter day tomorrow!
---
[i,mg][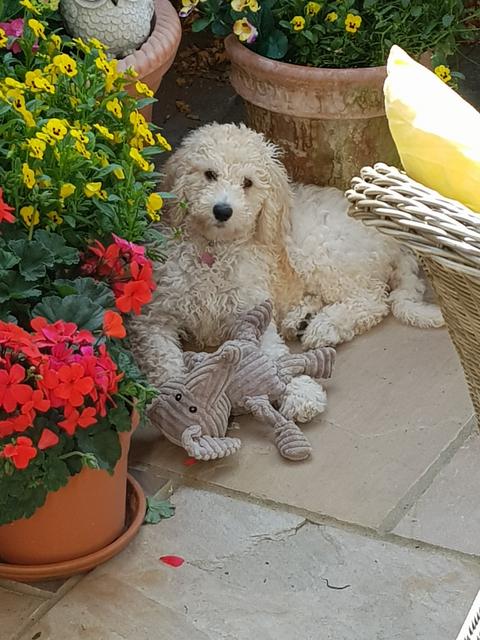 img]
---
Posts: 289
Joined: 03 Oct 2013, 12:15
Location: EastSussex
Been there, done it, got the badge. The Blueberry bushes have never recovered fully and the hole in the dark deep border is halfway to Australia. Sooooo "It's your hole now, you deal with it" and I will have fun hosing your filthy moustache. I remember the doodle-dashes in the early evening mad mad doggie but again it's only a phase just lasts longer than most. I think sometimes if we are tired or as is the moment tooo hot, doodle antics are more difficult to take. But look at that face
Begonias you can replace but Luna........................
Hope for a better day tomorrow.
---
Oh thank you for your reassuring words Kathie - shes been a lot quieter today - maybe due to her 2nd vacc this morning. The pots are looking a bit sorry as she has taken to laying on them! Also had to disconnect the water feature as she kept drinking from it - and Im sure its not very hygienic! My sunglasses have also gone missing so I wouldn't be surprised if they are buried somewhere! She is so cute though - can't be cross for long. Can't wait to take her out - vet said 5mins walk per month x twice daily- does that sound about right. She is now 7kg at 13 wks (was 3.6 kg when we got her 4 weeks ago)and vet thinks she might be quite large. How big is your doodle?
---
Posts: 289
Joined: 03 Oct 2013, 12:15
Location: EastSussex
Holly is now 51/2 years and 30 kilos which the vet said is ok as long as middle age spread does not get the better of her. She is the same size as her mum and the spitting image of her.Hollys dad was a handsome Aussie dood sort ofsable and whiteslightlylarger in stature. I often wonder about Holly's other 7 siblings who were all different in colour and coat textures.
---
Posts: 372
Joined: 06 Aug 2014, 17:24
Harley is 4 years old and weighs 36 kg. Hes a big boy
---