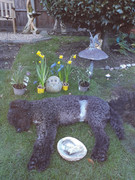 Our beautiful boy, Tarot went Home on February 6th and we gave him a worthy and befitting sendoff, leaving his body alongside that of his great uncle, Dougal.
It was all very unexpected but now understood - he had not responded to the treatments for the kidney failure and had not eaten a thing for around a week and we visited him this morning knowing that we were likely to be bringing him Home. He was present and affectionate, if weakened, and we were able to spend precious time with him before he moved on, painlessly and peacefully.
He'll be leaving a big Tarot-shaped hole in all our lives and we will miss him deeply, but with the sudden end of one phase, will align and allow the start of a new one to unfold as we explore what "not having a dog" and especially not having Tarot, feels like. He was a gift to the World and we were utterly blessed to have been able to share in his life.
Safe onward journey Right to the Source! See you there