This section is available for members to enquire about and to recommend dog-friendly locations for holidays and days out.
---
Posts: 1055
Joined: 28 Feb 2013, 23:52
Location: Orsett, Essex
What a great idea!
---
This is a really good idea!
---
---
Posts: 230
Joined: 05 Feb 2012, 17:49
Location: Buckinghamshire
Love this section! Brilliant idea. Can we extend to dog friendly pub recommendations too perhaps as I'm always interested in those too!
Last edited by
hollyminidoodle
on 19 Aug 2013, 21:21, edited 1 time in total.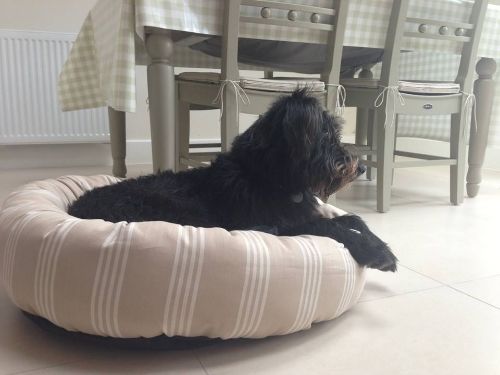 ---
What a lovely idea - thanks Mark
---
Lovely, welcoming and well-run B&B in Cornwall... dog-friendly...

'Ragstones', Lower Kilhallon, Par, Cornwall ragstones dot com

Jacquie and George, plus Amber and Charlie their little dogs, made us feel really welcome on our recent holiday. Jacquie cooks delicious, locally-sourced breakfasts and the rooms are lovely. Both rooms are en-suite and beautifully decorated. We managed to get our 9 month old pup's play pen in it, to keep him under control. There is an enclosed section of the garden to let your dog have a run in.
The local beach (Par) is dog-friendly, they are allowed off-lead and several pubs allow you to take them inside. A lovely base for exploring the surrounding countryside. The Eden project is very close and they let dogs in, though not in the domes; they also now have a covered section for parking and leaving your dog in the cool and shade.
Oh, and petrol station nearby with well-priced petrol (important when you've driven 300 miles!)

Anne & Ianto x
---
Oops! Did I post this in the wrong bit?
Anne x
---
Not the wrong bit particularly but might be better to create your own thread with that info? It sounds great!
---
Thanks Maggie, I did wonder how people were going to find places...!!
Anne x
---
Lovely place to stay in Winterton on sea in Norfolk. Converted barn with two properties and more to follow. Owner (Richard Kenyon) is fantastic and very obliging
We took our two girls there a few weeks ago and we all had a lovely time on the nearby beach and sand dunes. You also have a pub within walking distance you can take your dogs too and a local chippy! Properties have a secure area where you can let your doods do their business too!!
http://www.tripadvisor.co.uk/Hotel_Revi ... egion.html
http://www.tripadvisor.co.uk/VacationRe ... gland.html
Mark, Kim, Briar & Marcie (the Cockapoo!)
---