Darwin is a 11 week old black mini labradoodle who has been with us for nearly 3 weeks. He is beautiful! We got him after lots of pondering and research as a companion for our 14 year old son who has aspergers. He is really good in some ways, but (understandably) quite naughty in others! our biggest problem is that he seems to have some very aggressive outbursts. We have had dogs before, but it's so easy to forget those early trials and challenges!
---
I love the name Darwin! Yes, the young puppy challenges. My two young children are as thick as thieves with our puppy so it's triple trouble him. How does your son get on with Darwin?
---
Darwin actually means 'Dear One' in Old English! We are a family of medieval re-enactors, so we needed something suitable. My Son is also a (self-confessed) science geek, so he loved the name! Dog and boy are very closely bonded, and are often found cuddled up asleep together, although boy also now seems to bear the brunt of dog's savage nipping and growling, so we need to observe and manage the situation!
---
The puppy biting is a natural phase - pups will naturally play that way with their littermates, until they learn that it hurts. It's not aggression, just something new they have to learn - that we have more delicate skin than they do. If you google "bite inhibition" you will find loads of information. I found a pen for timeout worked well, but there are other things too
www.dogtrekker.co.uk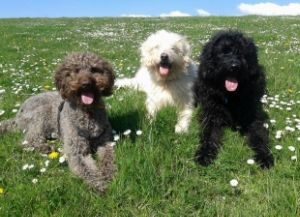 Beauty without vanity, strength without insolence, courage without ferocity, and all the virtues of man without his vices - Byron
---
Posts: 38
Joined: 06 Apr 2016, 17:35
Location: Yorkshire
Hi, Darwin is such a lovely name. We have an 11 week old pup too and are well into the bitey phase, our girls are the main victims. Its just something you have to work through, I find that she is much better with my eldest who is reasonably consistent with her so I think that is the key.
---
Thanks for your replies and encouragement! Things already seem a little better. He is a beautiful little boy, and we are looking forward to lots of enjoyment!
---