Posts: 35
Joined: 29 May 2015, 10:44
Now that winter is here just a quick point about under foot conditions when we take our dogs onto frosty or snowy ground.While they are running around having a great time it is very easy for the frost or snow to become compacted between their pads,when you leave to go home this can give the impression that suddenly your dog has an injury because he is limping.Always check their feet after they leaving frosty ground and remove any hard packed ice.Now back to my puppy who can not understand why the Robins in the garden will not stay and play!!!
---
Two of mine are fine as I can keep the hair between the pads trimmed, but my little hairy-footed yeti wears Pawz boots when out in the snow - stops any problems and stops her slipping on ice too. The are not expensive, and useful for putting over dressings too.
www.dogtrekker.co.uk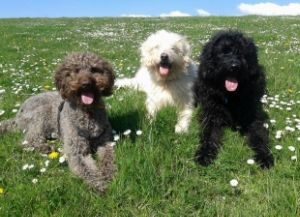 Beauty without vanity, strength without insolence, courage without ferocity, and all the virtues of man without his vices - Byron
---
So glad you're here to tell us these things, harleyboy...
---
Great advice re ice and I love the thought of boots, but right now in the West it's 14degs and our main issue is mud, Haha! No doubt the white stuff will be on its way now I've tempted fate! Anny
---