Posts: 3507
Joined: 03 Apr 2011, 10:51
Location: Derbyshire
Hi & Welcome from us.
Izzy is adorable, beautiful photos
.
---
LouisaSavage wrote:Izzy is supposed to be a miniature F1b.
As a small word of warning, she does look to be as "miniature" as Barney is... Who is now about 23" to the shoulder at 9 months.
Although I think girls grow smaller? If you like I can post a size pic of Barney at 8 weeks
(I just thought I'd say because every time he grew I'd get annoyed!
)
---
Posts: 1646
Joined: 06 Jan 2012, 22:25
Big welcome from me and alfie. She is gorgeous x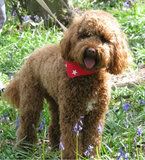 Lindsey and Alfie x
---
Posts: 76
Joined: 22 Oct 2012, 18:45
Location: Northwood, Middlesex
Haha thank you Maggie, I did think that she would be pretty big by the size of her paws! I would loce to see a comparison pic if you have the time to post one?

Izzy is currently soundly sleeping after an exciting shower xx
---
As Liz said before, looking at the size of her paws, she doesn't look like she will be tooooo little
Daise xx

---
She's gorgeous, also quite like Lottie as a baby!!

xxLottie and Fiona
---
LouisaSavage wrote:Haha thank you Maggie, I did think that she would be pretty big by the size of her paws! I would loce to see a comparison pic if you have the time to post one?

Izzy is currently soundly sleeping after an exciting shower xx
Ooh I'm sorry I forgot to do this
Barney at 9 weeks (at the back door to give you some idea of size?)
Barney at 6 months:
At 9 months:
---