Hi Elmo the bear. Doodle trust is a registered charity. x
---
Posts: 97
Joined: 07 Oct 2011, 17:03
... in Scotland.

DoodleAid is not about raising money, its about helping doodles.

---
What difference does it make if it is in Scotland? It is still registered with the charity commission. It is registered in Scotland as the main person who runs it lives there. If you raise money at all you should be registered so that you abide by certain rules and your accounts can be inspected at anytime. The money raised by the Doodle Trust goes towards the care of the dogs including vet care and spaying or neutering them. This is very important and a highly responsible thing to do before re homing any animal.
---
Posts: 97
Joined: 07 Oct 2011, 17:03
Thanks "Chelle46" but you're getting fact and fiction a little confused. The charity commission in each country is there to regulate activity in that country; there is no requirement to be registered but registering does give you some legitimacy in terms of public perception and scrutiny in the country you operate. If you need that legitimacy to raise large amounts of money it can be useful but it is certainly not the case that you "should" register. In the England and Wales there is a requirement to register if you raise more than £5000 per annum which DoodleAid does not, yet still manages to help many people rehome their doodle.

I am sure the money charged by the labradoodle trust ,from the onward sale of dogs that need rehoming, goes towards their vet fees. You assume that this method is the 'right' way to rehome. Many have a different view. The small amounts (all of which are open to scrutiny by those who donate) DoodleAid raises goes towards helping people rehome their dogs, to take some responsibility for their dogs future. Funds raised are used to help towards transport, spay/neuter and other vet fees. The contractual arrangements for the rehome are between the former and new owners and not for a fee to DoodleAid; DoodleAId simply "aids" the process.

---
Personaly if you wish to be seen as legitimate registering is the way to go. Any fund raising body that has nothing to hide would not have a problem with that. also at present (though this may change sometime after September) it does not matter which country Scotland or England you register in (having ran the scottish office of an English based and registered charity I know that as fact!).

You seem to have an issue with the Trust, which is a different matter. The Trust does not "sell dogs" but as with all rescues asks for a set donation to cover the cost of the dogs care while with them. This will included spaying, micro chiping and any injections needed. The Trust does not broker deals between seller and owner, as Doodle aid does, but instead takes a dog, fosters it, helps it through any issues it may have, gets it spayed and vet checked, home checks all potentional new families and matches it with the family that would best fit it's needs. I find this, along with many others, the most responsible way to make sure a dog goes to a legitimate and loving home. New owners do keep in touch with the Trust with many joining the friends facebook site.
---
Posts: 97
Joined: 07 Oct 2011, 17:03
Clearly you have a personal opinion of what you consider legitimate although the number of charities under investigation and the charity commission itself failing to have spotted numerous money laundering scams carried out by registered charities, begs the question whether charitable status gives you legitimacy. But of course I'm not suggesting this is the case here in the same way I'm sure you weren't suggesting the DoodleAid is illegitimate.

Registering a charity in Scotland is different to registering a charity in England and Wales; this is why there are separate statutes for each country. Most charities will be registered in the country in which they operate and most "UK" charities registered in both Scotland and England & Wales.

I do not have an issue with "the Trust", I was simply responding to your post about the trust being the "most appropriate to deal with an enquiry". Many people disagree with you and those are the people who contact us. They want to be involved and take some responsibility for rehoming their dog. They may want to stay in touch and do not want these decisions taken away from them.

We offer assistance, not rescue; we offer help to people and their doodles.

---
Tbh I think that in many cases a local rescue is an option worth considering. They are experienced in all aspects of rehoming, and rather than foster dogs with volunteers they will have them in kennels where they are professionally assessed which in some cases is very necessary. The trouble with fostering is that it can take several weeks before problems surface which means that unless someone is very experienced they can so easily get a false impression of the dog. A good local rescue is often the first port of call when people are looking to rehome a dog - we have one near here which is on the tip of everyones tongue when you mention rehoming a dog - they liaise with the local training schools and dog warden, and keep in touch with the dogs they have rehomed. I think people are put off by the thought of a kennel, when a rescue centre can be the best option.
www.dogtrekker.co.uk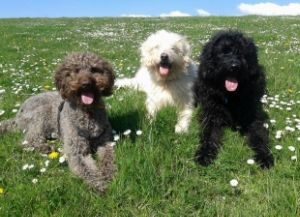 Beauty without vanity, strength without insolence, courage without ferocity, and all the virtues of man without his vices - Byron
---
I think the idea if the standard reply that says it all and is a really good idea. Well done and thank Sue for taking the time to do it (and redo it several time by the sounds of it) You are brilliant and big hearted
It is worth bearing in mind that any harm that would come to an animal re-homed via this forum would come from the person offering to take the animal, rather then the individual looking to re-home. Perhaps we could have some chat to come up with ideas about how to monitor/regulate/assess those people ???
---
Bid is right there are many excellent local rescues, run by volunteers, and in fact one of my girls comes from one. I do have a concern at the attitude to fostering and how it is misrepresented by some on this site. I am not sure if it is just lack of knowledge.

Using fosterers is the prefered choice of the majority of breed groups before they re home dogs (my neighbour fosters for scottish GSD). There is a reason for this. No dog would ever choose to spend time in a kennel , many will totally fail to thrive and show behaviours they would not if in a home, thus a proper assessment cannot be carried out (with dogs being rejected as unhomable). It is an extremly stressful situation for many dogs and rescue centres will tell you it is far from ideal, as it is a totally unnatural situation, but it is the only option they often have.

Fosterers are not just picked up from the street. They are dedicated, experianced dog lovers (my neighbour has had GSD for many many years). A dog will spend a minimum of weeks with a career, many months, and there will be ample opportunity to assess how the dog copes with normal family situations. if any issues are known prior to fostering or show themselves while the dog is in care then these will be worked on and the dog not rehomed before it is ready. A foster will have the opportunity to know a dog individually caring for it as part of his or her family.This always helps when it comes time to pick the correct forever family.

Yes foster carers are volunteers, so are the people who work in local rescues, but that does not mean they are not experenced or do not do an excellent job.
---