All the hoomans,
Just a little update,
Not too many posts lately, mainly due to ongoing battle with youngest d's anorexia which at times is very time consuming and stressful, but we are slowly turning the corner and hopefully there is now a glimmer of light at the end of a very long tunnel
; Through all of this Oscar has remained our rock, with his endless affection and calm nature, he has always been a shoulder to cry on, his fur does get a little matted though
. He has just been recently clipped as shown below, just so much easier to manage his awkward coat type now. Looking forward to some good weather and maybe gatecrashing some doodle meets.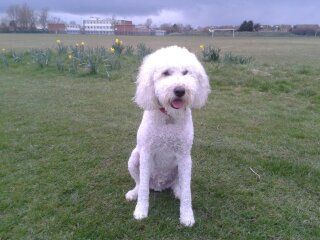 Oscar & hoomans.